Customer Reviews
Write a Review
Ask a Question
Filter Reviews:
whole
gold
grey
market
canopy
color
strollers
quality
09/20/2022
Shyda N.

United States
Gorgeous Color!
I decided to get this lighter canopy for my hot mom walks with my baby because not only does it match my aesthetic it's also better for when the sun is shinning down on my little one. It was easy to switch out and the quality is unmatched! If you're thinking of getting it, go for it! I'm probably going to end up buying another color to keep things fun!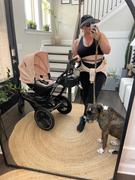 Beige is one of our best sellers! Great pic, love seeing the Jogger out in the wild.
09/09/2022
Tania A.

United States
06/18/2021
Shanell G.

United States
02/08/2021
Omayra F.

United States
Love the stroller !
After some issues with delivery I finally got my stroller and some accessories, and I love them !! Everything seems sturdy and I get compliments everywhere I go. I knew I wanted this stroller when I found out I was pregnant and I don't regret purchasing ! The four seasons weather cover also keeps my baby warm, perfect for winter days !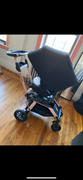 SO glad you are enjoying it! Let us know if you have any other questions along the way.
12/02/2020
Tran O.

United States
Great stroller but heavy
I've had the stroller for a few months and it's working great. The best part is how easy assembly was. The ride is smooth, but for a petit person, it's a bit heavy to push on bumpy roads. I've pushed the stroller off the sidewalk a few times because it's so heavy. Other than that the stroller is beautiful and functional.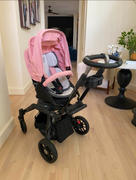 Thanks for your feedback, yes while it is considered a full size stroller, we are always trying to create a perfect balance between weight reduction and quality of product. We will make sure to pass this on to our engineering team for their further development.
10/11/2019
Nataliya A.

United States
Love our new beige stroller canopy!
Beige stroller canopy is so beautiful. The fabric is high quality, soft and stretchy but also strong. Very nuetral color that goes with everything but looks luxurious. I love how it transforms the stroller, makes me feel so fancy. It's like getting whole new stroller, so excited for more colors. Will be ordering more Thank you Orbit!
09/13/2022
Jessica L.

United States
High quality product
Absolutely love this canopy. The quality is so evident! Love that there are multiple color options, but I went with the standard black!
06/28/2022
Rubi L.

United States
Beautiful red color
I love this red! It's a deep red not crazy bright. Great quality
05/10/2022
Cindy N.

United States
love everything about orbit
it's very nice to have an extra set of this just in case the original one gets dirty. also, customer service is the best in this planet.
04/16/2022
Sheena T.

United States
Love the color!
I love how we can change the color. I bought two different colors! We can't wait to use them when baby girl arrives! The color is as expected and super easy to install and switch over.
04/16/2022
Paloma I.

United States
Perfect Red
Love the color ! Super bright and elegant .
04/15/2022
Lauren G.

United States
Love changing them
Bought two and I love that I can change the canopy for different looks. I feel like the one that stroller seat comes with is more sturdy and the peak a boo flap is bigger. Besides that I love the product
02/21/2022
Ashley P.

United States
Teal stroller canopy
I love the quality of this canopy and the entire travel system! Definitely recommend you splurge in the product and save your back!!
02/18/2022
Sujata P.

United States
G5 stroller and seat
Very happy with our purchase and love that we can expand with it as our family grows
11/20/2021
carmen M.

United States
Awesome
Love every product I have from orbit baby
10/30/2021
Aileen L.

United States
Stroller cover excellent quality
Product received on time and the quality is awesome! Thanks!!
10/10/2021
Zayuri V.

United States
Orbit baby stroller
Best stroller system ever purchased. Couldn't be happier
08/20/2021
Sarah G.

United States
Gorgeous!
The new change of color is great. The color is the most luscious shade of pink. It's easy to exchange colors and I'm going to ad some of my own snazzy detail to it when it get some time. So very beautiful… and fun to coordinate with babies outfits…. I will buy more for sure!